Today in our blog dedicated to the luxury we present a roadster of which only 500 units will be manufactured, although Alfa Romeo requests you have reached more than double this amount for this unique and beautiful sports. Follow the footsteps of his brother, the 8C Competizione than 500 units which were reserved before production is also manufactured.
A Spain reach 5 units of a vehicle price exceeds its rivals by about 30,000 euros and whose final price skyrockets to 232,000 euros in our market. Alfa Romeo plans to deliver all the Spider between 2010 and 2011.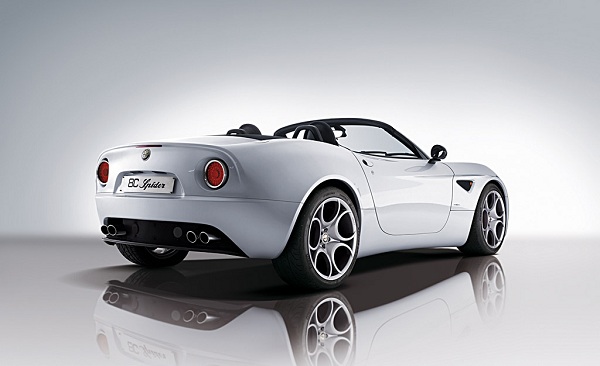 Like the 8C has a 4,700 cc aspirated engine and 8 cylinders arranged in V capable of delivering 450 horsepower whose origin is Maserati. This rear propulsion distributes the weights between the axles almost perfectly since the rear axle supports 51% while the front 49% of the total. Associated with the engine goes a -sequential manual six relationships change that is complemented by a limited slip differential.
The Alfa Romeo 8C Spider reaches 4.38 meters in length and its width is an impressive 1.89 meters. It only weighs 1,590 kilos, just 90 more than the coupe version, which makes it one of the convertibles lightest in its segment . It has a soft top in a different color to the body and its trunk is almost testimonial. The driver can select two ways of use; A more sportive "Sport", or another more comfortable "Auto. As selected, different parameters of the car such as suspensions, traction, etc. Are configured in one way or another to offer the user a more sporty or more comfortable sensations.
The maximum torque offered by your engine is 480 Nm at 4,750 turns which lets you go from standing to 100 Km./ h in just 4.5 seconds and reach a top speed of 290 km. / H. Its braking system is composed of ceramic disks capable of stopping the car at a speed of 100 km / h in just 33 meters. In its precious alloy wheels 20 inches are anchored the Pirelli tires home 245/35 on the front axle and 285/35 in the rear.
The 8C Spider is an exclusive sport collection that will delight a few who will enjoy and arouse the envy of many others that we have to settle for seeing in photography.